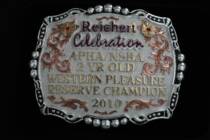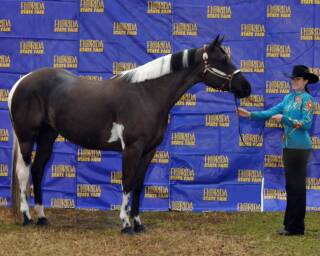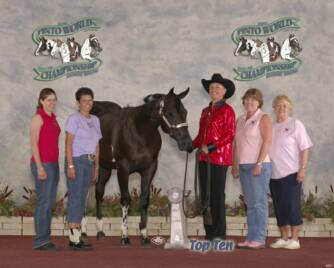 2008 Pinto Worlds in Tulsa, Oklahoma

2007 APHA / PtHA Black Tobiano Filly

Top 10 Amatuer Longe Line at Pinto Worlds in 2008

Sire: Ima Switch Hitter (Multiple World Champion)

Dam: Kay Cees Doing Time, AQHA Black

Full Sister to 2008 APHA World Champion Time To Switch and 2008 PtHA World Champion Switchs Big Leaguer

PtHA Register of Merit in Halter

APHA points in Halter and Color

PtHA pionts in Color; APHA Pac Certificate of Recognition in Halter

APHA and PtHA Grand Champion in Halter

NSBA Incentive Program

Bred by Painted Feather Farms, Dade City, FLorida

Mare not for sale.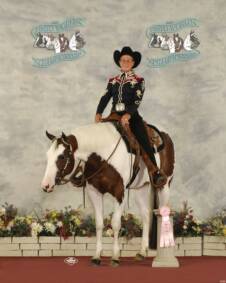 2008 Bay TOB/OVR Filly

Sire: Ima Switch Hitter

Dam: Hot Spice Smoothie

Placed 5th at PtHA Worlds 2010 in Open Western Pleasure 5 and Under

Reserve Champion at Reichert Celebration August 2010 APHA/NSBA 2yr Old Western Pleasure

Headed for Ft. Worth to be shown in 2yr Old Western Pleasure and making her debut in Trail at the APHA World Championship Show in November 2010

PAC Point Earner

Year-End High Point winner in Open Color Halter and Yearling Halter

Enrolled in Breeders Trust

Currently Under Saddle Training with Bear Smith

Contact BJ Ranch to Inquire about her.

Filly offered for sale.

Kola Dancer Farms Crystal Flight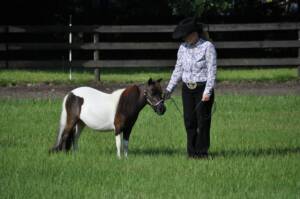 2007 Black Pinto Mare

American Miniature Horse  and

Pinto Registered

Currently being shown at Local Open Shows and Pinto Shows

Mare Not For Sale

2006 APHA/PtHA Grey Tobiano Filly, HYPP N/H

Foaled 2/18/2006

Sire: Ima Switch Hitter (Multiple World Champion)

Dam: Photo Chick (Daughter of Photon, AQHA)

APHA ROM in Longe Line- APHA Open Halter and Youth Points 18 PtHA points in longe line

Circuit Champion Longe Line South Carolina and North Carolina

Saddle Trained by Bear Smith at BJ Ranch Eustis, FL

2002 Buckskin Tobiano Mare

Sire: Fudge On Top

Dam: Seven S Flashy Jaz

Purdeee is a former show girl, she is now retired and a new mother of a beautiful Palomino colt.

She has accumulated PAC points and Certificate of Recognition in Halter and was 2007 Grand Champion Mare 3 and over for Florida Pinto. 

Mare not for sale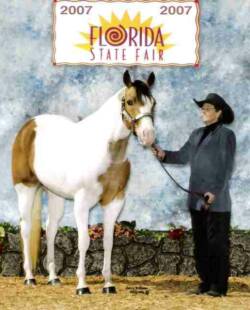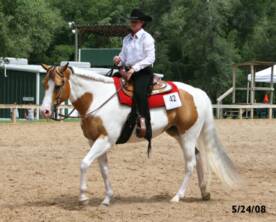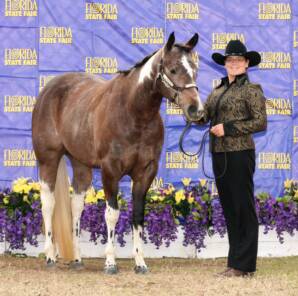 2009 APHA / PtHA Sorrel Overo Filly

First time out Pinto Color Point Earner

Sire: Mr Yella Fella

Dam: Hot Spice Smoothie

2011 Pinto Worlds

2 time Top 10

2yr old Overo Mares

&

Open Overo Color

2011   Reichert Celebration

2 Year Old Color Breed Hunter Under Saddle

Shown at Florida State Fair in 2010

September DPHA and FPtHA Combined Show

(United Paints of America)

Double Reserve Champion

1st in Yearlings

1st in Longe Line

1st in In-Hand-Trail

        APHA Worlds Trail-in-Hand Top 10

      APHA Worlds Color Top 10

        APHA ROM in Color and Halter

             Dixie Paint and  Florida Pinto

        2010 Year-End High Point

       Grand - Yearling Filly 

Reserve - In-Hand-Trail     Reserve - Overo Color

          APHA PAC Point earner

  Currently being shown at FPtHA shows, Dixie Paint Shows

                          and other Open Shows

Filly offered for sale or lease.

Ready to breed or sells open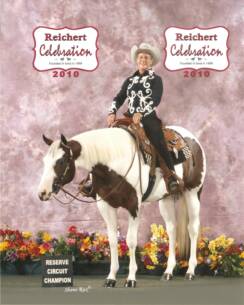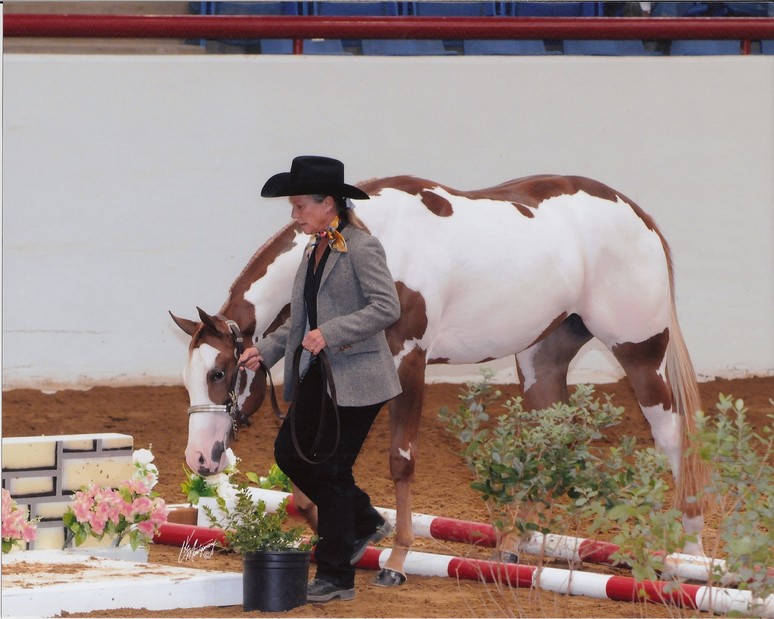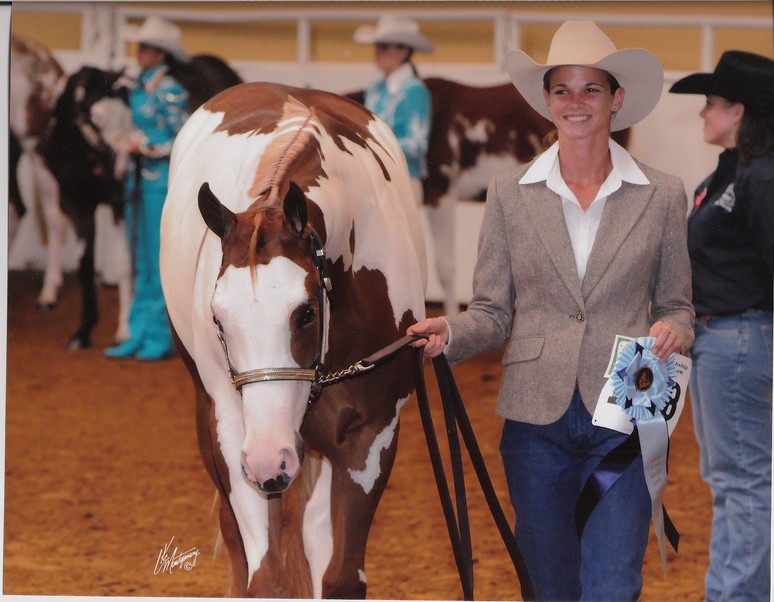 2011 APHA / PtHA

Black Tobiano Filly

Sire: A Tru Rolex

Dam: Hot Spice Smoothie

2012 Pinto Worlds

Top 5

Open Color and Longe Line

NSBA -  Longe Line

Top 10

In Hand Trail

47 Pinto Points

Currently Training Under Saddle with Bear Smith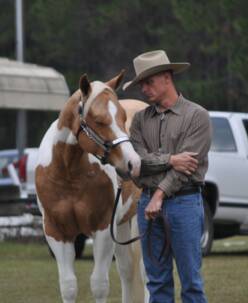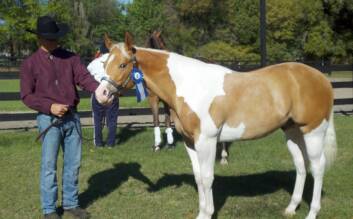 Waiting for the next class.

2010 APHA / PtHA Palomio Tobiano Gelding

Sire: Ima Switch Hitter

Dam: Pretty Flashy Fudge

Being shown at local Open Shows

Has earned APHA PAC points in

Halter and Showmanship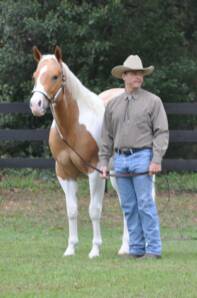 APHA World Show 2012

Fort Worth, Texas

3 Top 5's

1 Top 10

2nd NSBA LongeLine Reserve Overall Finals

3rd Longe Line Breeders Futurity

5th In Hand Trail Breeders Futurity

4th Tobiano Color

8th Open Longe Line Finals

Shown by Bear Smith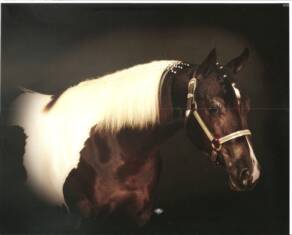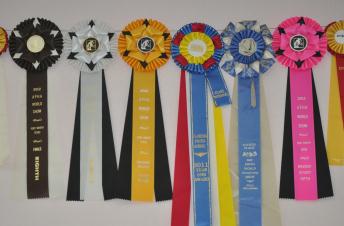 2014 Pinto World Champion

2014 Pinto World Champion Tobiano Color

Unanimous Under All Judges

Top 10

3 Year Old Western Pleasure

Ranch Horse Pleasure

Discipline Rail Western

Look for her at the

APHA World Show

Fort Worth, TX

November 2014